This is a Custom built system – That was a standard Build from several yeas ago with One year full Hardware Warranty – Please Note all of the Equipment is in the process of being revised to the newest versions available in 2023 – The newest versions of this case will be fairly similar.  Price will be revised and modifications will be available depending on buyers preference as this is a Template only.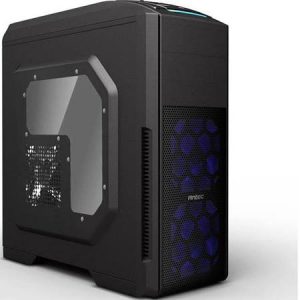 Custom built system – $1100.00  plus tax – One year full Hardware Warranty
MSI B350M w /6 USB 3.1, 6 USB 2.0 & 3 Display Outputs
AMD AM4 Ryzen 3 1300X  3.5 Ghz CPU Heat Sink & Fan
1 TB SATA 6Gb/s  (7200 rpm) 64 MB Cache Hard Drive
1 TB SSD (Solid State Drive) as Boot Drive
Viper 16 GB DDR4 2400Mhz Ram
ASUS 24X DVD+/-RW Dual Layer SATA DVD-ROM Drive
MSI GeForce GT 710 2 GB 64-Bit DDR3 0Db Silent Cooling Fan PCIe Video Card
Wireless Keyboards With Mouse
CyberPower 2700J Surge 8 Outlet Surge Protector
Antec GX 500 Window Mid-Tower Case
Thermaltake 600 Watt Power Supply
Raidmax 120 mm Case Fan
Win 10 Home 64 Bit
Raidmax 120 mm Case Fan
PRICE                           $1100.00          Each
66.00         Tax  (8.25%) components only on $800.00
$1166.00          Total price
DEPOSIT                        $991.10          (85% of total price)
NOTE                  FT On-Site reserves the right to modify components to allow for advanced technology changes between bid date and configuration date.
DISCOUNT          If two or more Systems are ordered, the price per system would be reduced $50.00 each.